Yialos Taverna, Coral Bay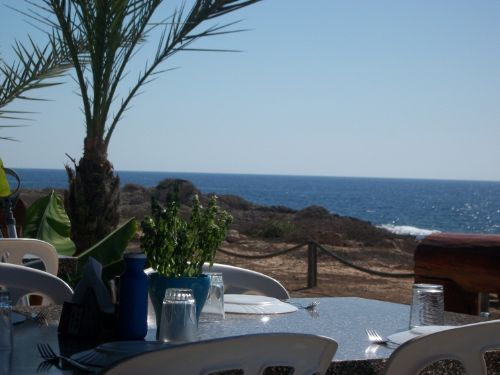 About Yialos Taverna
The Yialos Taverna by the Sea is a family run restaurant is located right beside the beach in Coral Bay. It is a very informal tavern where the atmosphere is happy and relaxed. It is a very family oriented restaurant( run by a wonderfully kind lady called Rena), but it's also ideal for a relaxed group of adults to dine. This restaurant is very good example of a typical local taverna. The restaurant is open for both lunch and dinner. The lunch menu is mainly from 12pm- 4pm. The dinner is served from 4pm until late.
In the restaurant, there is a wide range of drinks to choose from. The variety goes from freshly squeezed fruit drinks to the well-known soft drinks like Coca-Cola and 7-up. They also over a wide range of coffees like espresso to Cyprus coffee (A small, strong black coffee). The beach taverna offers a large variety of local wines both red and white; these are available in both carafes and glasses. There is also Keo and Carlsberg Beers in small and large bottles at reasonable prices.
All of the food is produced locally and cooked with the traditional recipes. The tavern offers a wide range of local foods like stifado, kleftico and even couscous. The meal you get is a meze designed for how many guests you are enjoying your meal with. For the starting course, you get the a mixed salad, local green olives, white village bread and a variety of local dips. The second course of the meze is a local favourite of beef stifado, a vegetarian pasta bake and tomato and basil couscous. The third and final course is lamb kleftico, roasted chicken and traditional, clay oven roasted potatoes.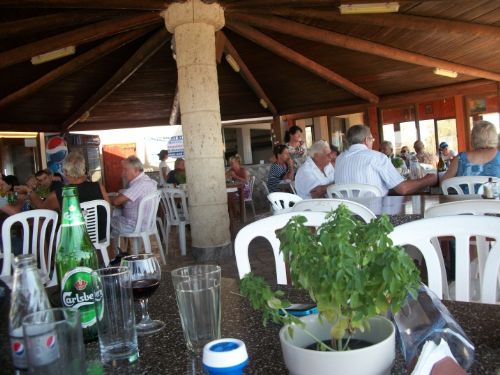 Personal Experience
When I first arrived at the Taverna I was impressed by how many both locals and tourists where mixed together. Mainly the locals kept away from the tourists but in this restaurant the co-existed very well together and even chatted amongst one another.
As we walked up the stairs to the restaurant, we were greeted by a member of staff who took us to our table in the shade. The staff member was a tall waitress and once we were all sat down, she ordered our drinks straight away. Unfortunately there is no menu so you have to ask if they sell these drinks or you will have to order a typical drink that almost every restaurant offers like a Pepsi or a Keo beer.
In a matter of minutes, the first course of the meze was served (all of the food we were served is listed above). The dips you get are traditional dips like houmous (a healthy vegetarian dip made out of chickpeas) and tzatziki (a yoghurt dip with mixed with cucumber and a hint of mint).
Once you had finished the entire course and you had a couple minutes rest and chat with your friends and admired the beautiful nature and ocean views, you get served with the second course. In the second course you got given a beef stifado that is so brilliantly cooked, the meat just flakes and melts in your mouth. Along with the stifado you got a pasta bake that is cooked with so many flavours that all work very well together and tastes wonderful. Finally you get served a tomato and basil couscous that tastes very good and it's a lot healthier than white rice.
The final course in the meze is roasted chicken, kleftico (many restaurants call it lamb but most of the time it is goat), and Cyprus roasted potatoes. All the food in this course is cooked in a clay oven over night to make it soft and tender. The chicken and the kleftico tasted so delicious and the meat was very tender and flaky. The potato was also amazing and is cooked so perfectly.
Personal Experience from Lauren aged 15 years at time of visit.
Additional Information
Address: 4607 Coral Bay Sea Caves, Cyprus